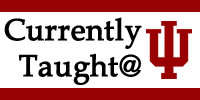 Language Family: Indo-European =>Italic =>Latino-Faliscan => Romance => Italo-Western =>Western Romance =>Ibero-Romance => Western Iberian => Galician -Portuguese =>
Population of Speakers: Native:230 million + L2:25 million
Portuguese is the native language of Portugal and official language of a dozen countries all over world, including Timor Leste in Asia, Cape Verde, Angola in Africa, Brazil in South America and etc. The total speaker of Portuguese could be as many as 260 million. It is one of the 24 official language of European Union.
Established in the 1960s, the Portuguese program at Indiana housed within the Department of Spanish and Portuguese is one of the oldest in the nation. We are also one of few programs in the country to offer the B.A., M.A. and Ph.D. in Portuguese. We also offer a Ph.D. minor.Our upper-division and graduate curriculum focuses on Brazilian, Portuguese and Lusophone African literatures and cultures. Courses are regularly taught on Brazilian cinema as well as on a range of special topics, most recently, the Literature of Angola and Mozambique: Echos of the Baroque: A Trans-Atlantic Approach.
There is an active conversation hour called Cafezinho .
Undergraduate Study
Undergraduate students in Portuguese can double or triple major, with secondary degrees in areas such as Spanish, Latin American Studies, International Studies, and history. Our program also features an intensive language sequence as well as an honors curriculum option that has attracted our best students.
Graduate Study
Graduate students have the ability to take courses in Portuguese and work on a minor at the M.A. and Ph.D levels. Fellowships and teaching assistantships are available for qualified students.
Study Abroad
Undergraduate students with two years of Portuguese language are encouraged to take advantage of the Interuniversity Study Program in Brazil. Through this program, qualified undergraduates have the opportunity to spend a semester or year abroad in one of our CIEE-sponsored programs in São Paulo, Salvador, and Rio de Janeiro.